So, to shake things up a little bit today, I decided that I would start "Wednesday Wish Lists" to share my favorite things, keep track of my never-ending wish list, and to show you pics of things other than B and I. Sound good? OK.
I spent some time thinking of the things that I could not go a day or week without, and came up with two things to get us started!
If you are anything like me, your day hasn't begun until you have that first swig sip of coffee. That first gulp is typically followed by 2 medium sized mugs of deliciously warm and slightly flavored, girly coffee. Hey, at least I'm making it at home every morning and not spending $5 a day on Starbucks, right? Well, for me, perfect mornings start here ..
Hazelnut is the bomb .. Pumpkin Spice has my heart though - too bad it's only seasonal?!







B is sometimes worried that I go through large bottles of this stuff too quickly, or maybe he should just buy stock in International Delight?!
Nevertheless, I look forward to my morning cup o' Joe just as much as I look forward to the 15 minutes of Regis & Kelly that I get to see each morning.
Aside from my caffeine
addictions
habits, I also enjoy the perfect no-chip manicure. A girl has got to have a pretty or sparkly color adorning her finger nails at all times, right?! Well, being the chic and well dressed new wife that I am, and in trying to stick to my monthly budget (read: using any loose change or "blow money" to buy a new top rather than food or manicures), I opt to paint my own nails.
Home manicures may seem like a royal pain, but I've been doing it for so many years that I don't even really notice it anymore. I don't even remember what my natural nails look like, and they're probably a horrible mess underneath the years of fabulous colors I have been covering them with.

But, each week, without fail, I pop on a DVR'd episode of
Gossip Girl
The Bachelor
educational TV and get to work. The whole process now only takes me 10 minutes or less. How did I get so good at this, you ask? Well, my friends, I found the one manicure secret that NO woman should live without. Feast your eyes on this little beauty ...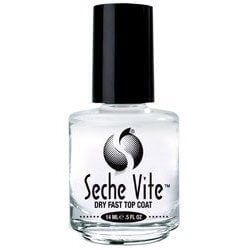 Manicure splendor in one little bottle - you can buy it
here
!
I learned about Seche Vite when I worked for a spa back in the day, and I never looked back. It goes on kinda thick, but dries
super
fast, and keeps your manicure looking fresh for days longer! I have already recommended it to a bunch of my friends, and they're all using it too!
(FYI - I am in no way being compensated for this post, I just wanted to share because Seche Vite is the bomb-diggity)
So, there you have it, my first attempt at sharing some of my favorites with you! Check back next week and maybe I'll share my favorite online shopping stores, fuzzy slippers or shampoo - oh, the excitement!!