Thank goodness Friday is here! And, the fact that it's 70* doesn't make it any easier to get through the rest of the workday in the office. Luckily for me, my office is only 4 miles from our place, so I got to go home and enjoy the sun with the pup for a bit during my lunch every day this week today!
Since Riley had a brief introduction on the blog earlier this week, I figured I didn't need to do the formal how I convinced Hubs to get her for me intro, but rather, show more of her sleeping, scampering, gnawing, playful puppy-self!
So, here is a better look at our new little one, in all of her 8 week old, black lab mix glory, cause after all, wouldn't my girl want me to show you pics of her from her "better" angles??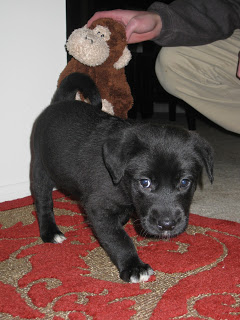 Riley is getting better at "smiling" for the camera! Momma is SO proud, but B insists that she takes after her Dad in disliking the camera. Maybe this is why she barks at both the camera and iPhone when I get in her face?!



Oh, and here are the proud furbaby parents on one of our last "nights out" for a while, it seems. Ha. Such is puppy motherhood?!