Well, we're back from our wonderful long weekend in Hometown, NJ! Although Friday cannot come soon enough, I feel like I've been so busy this week already!
I finally got myself back into my workout routine, and for the moment, working out in the morning before work is best for me (let's hope this keeps up!) (thanks for the pat on the back!)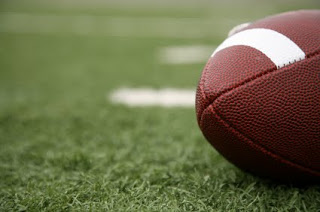 Aside from that, our beloved JMU Dukes will be taking on the Maryland Terrapins @ UMD this Saturday, so we're getting a big group of JMU alums together for the game! It should be a great flashback to last winter's
playoff game
, but with better weather! We'll be meeting up at B's place and heading down to College Park for a full day or reunions, grilling, and some adult beverages :o)
Today also marks the OFFICIAL kickoff to the NFL season! My heart is just full of excitement for this year. Being a Jets fan doesn't also prove to be rewarding, but every new season, there is still some glimmer or hope left! And, since this is the season of
Sanchez
(cutie), we'll see how that hope plays out! Give me some couch space, chips, a few beers, and B's 52" TV, and I'm in heaven for the next 17+weeks each and every Saturday and Sunday! (I will refrain from talking up Notre Dame until another day :o))
-----------------------------------------------------------------------------------------------
In other news, we booked our plan tickets to Boston for my birthday! Well, we're not actually going
on
my birthday, but a few short weeks later. I am SO excited, since I've never been to Boston before! We have some friends that live up there, so we'll be catching up at a local watering hole, no doubt, but I want to get as much sight-seeing in as possible! Any suggestions on must see places in Beantown?!
-----------------------------------------------------------------------------------------------
And, what would my life be without weddings and pre-wedding events?! We have a family wedding next weekend in Hometown, NJ, and another (that I'll be attending stag), in October.
A few of my dearest girl friends are planning their weddings over the next few months, so I will be up to my eyeballs busy with all of the fun details that go along with that! I feel like such a grown-up! Le sigh.
And on that note ...
GO Dukes! GO Jets!! GO Irish!
Happy Thursday!