That's right ladies .. college FOOTBALL starts today!!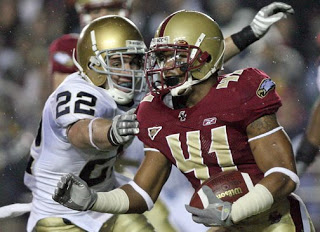 Bless my Dad's heart; he had three daughters before my brother came along, and has ALWAYS been a huge sports fan. Therefore, he needed someone to watch game after game every Saturday and Sunday with him, right?! Enter me. Thanks to my Dad, I have loved football for my entire life.
College = Notre Dame (and JMU, of course :o))
NFL = NY Jets
I am so excited for the seasons to start, after all, it is my most favorite time of the year!!
Who are your favorite NFL/college teams?