Summer is here and that means we are jetting off to the beach every chance we get. This past week, we got to host my family in Fenwick Island at my in-laws house. It is not very often that my entire immediate family gets together, especially for a vacation, so we were excited for the time away.
It has always been my family's style to grocery shop and eat at home for most of our meals while on vacation. It is a nice way to save money and we typically split up the cooking responsibilities so everyone gets a break.
B and I volunteered to take care of dinner the first night we were all together. We went the light and healthy route and prepared a bunch of grilled chicken, grilled veggies and a huge salad with lots of fixin's.The salad wasn't fancy, but it has become a favorite of ours. We simply wash and prep a large batch of spring mix and top it with fresh cut veggies (usually broccoli, cauliflower, carrots and mushrooms). I also prepped shredded cheese, dried cranberries, sliced avacado and croutons as toppings. One of my favorite things to do is to top my salad with the grilled chicken and veggies and mix it all together. The warm chicken and vegetables add extra flavor and protein to this staple meal.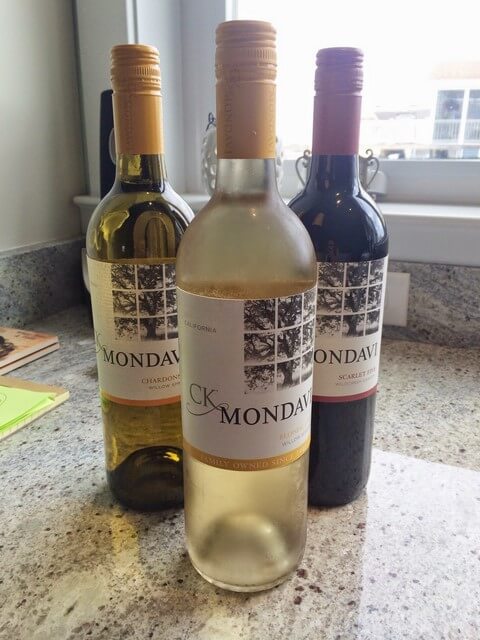 Of course, no vacation meal would be complete without the perfect drink pairing(s). Because we had eight adults on this trip, I made sure to offer a little bit of everything. Did you know that CK Mondavi is the only American made/grown wine in the "supermarket wine under $10" category? CK Mondavi is the perfect summer/4th of July wine. Not only is it the only wine in this price point to be 100% American made & grown, but a percentage of sales goes to supporting veterans. CK Mondavi wine is sold nationwide in every US state. Established in the 1940s, CK Mondavi remains a family- owned business that has thrived for four generations to produce fine wines.

I love that a percentage of each bottle sold between May - August is donated to Intrepid Fallen Heroes (up to $50,000). Intrepid Fallen Heroes Fund (IFHF), an organization that supports the men and women of the Armed Forces and their families. Funded entirely by public donations, IFHF serves U.S. military personnel wounded or killed in service to our nation and their families.
We have been enjoying the sun, the bean, the pool and lots of time to catch up and relax. And B and I absolutely love all of the extra help with Gavin! He is such a spoiled boy this week. At this rate, we may never go home.
I was selected for this opportunity as a member of Clever Girls Collective and the content and opinions expressed here are all my own.