This year is B's first Father's Day. I don't have anything grand planned, but my husband isn't into that anyway. We bought him a few presents and plan to shower him with love and plenty of relaxation time. Even if some of that time will be spent in the car traveling home from NY.
Watching B become a father has been one of the greatest joys. For the first month of Gavin's little life, I was pretty caught up in my own emotions and how to handle a tiny baby. But he was with me every step of the way. He calmed me when I was freaking out, helped me make tough decisions, and humored me when all I really needed was a stiff drink and some adult conversation after a day home by myself with an infant. He has been my rock, and I don't know where I would be without him.
Being "Daddy" is a whole new role for him, but he took to it almost effortlessly. He has good instincts, and the ability to keep cool in most situations. He is also hilarious and full of fun, and now that Gavin is at the age where he is constantly interacting with us, him and B fall into a pit of laughter at least once every evening. I would be lying if I didn't say I look forward to those moments every evening before bedtime.
Most people will tell you Gavin looks almost just like me, but when I see him laugh and smile, it always reminds me of his Daddy. They have the same jovial spirit and they just light up around each other. It is a gift I never expected, and now I can't imagine my life without it.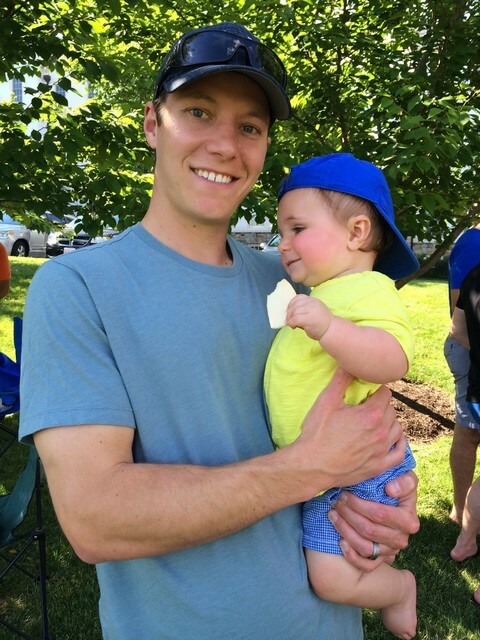 Just look at those sweet smiles! Does the Dad in your house bring out the smiles, too? Well, Oral-B at Target is hosting the Power Dad's Smile Everyday Sweepstakes with over $1,000 in prizes starting June 2! Oral-B is the #1 dentist-recommended toothbrush brand worldwide. You could win the Father's Day Power Bundle which includes the Oral-B Black ProfessionalCare 1000 Rechargeable Toothbrush, the Braun Series 7 760 shaver and a $250 Target GiftCard! The Braun Series 7 760 shaver includes the most innovative features for Braun's most advanced shave, contour adaptability for improved skin contact, shaving technology for a close and comfortable shave and cleansing technology for a hygienic and fresh shave every day!
To enter simply share a photo of you and your Dad on Twitter or Instagram using #oralbsweeps between June 2 and June 15.
Happy Father's Day to all the Dad's!
I was selected for this opportunity as a member of Clever Girls Collective and the content and opinions expressed here are all my own.