It is true. I grew up in the land of the Real Housewives of New Jersey. And, although most of what you see on their show is fabricated or scripted, one of the genuine things is the amount of Italians that live there. And the food. Oh, the food. Say what you will, but New York and New Jersey know how to do Italian food. In fact, the lack of genuine Italian food (and pizzerias!) is one of the things I miss most now that I live in Maryland. Every time we visit my parents in North Jersey, we have pizza at least once, and we always stock up on bagels to take home with us.
I may only be about 2% Italian myself, but fortunately for me, I grew up with lots of Italian friends and neighbors, and over the years, I was able to pick up a few of their delicious family recipes. Recipes for Stuffed Shells, Lasagna and Vodka Sauce, just to name a few. They are some of my favorites, and ones that I hope to commit to memory so I never lose them.
While I was out grocery shopping last week, preparing for the impending snow storms that were getting ready to slam us here in MD, I had comfort food on the brain. Because what tastes better than a fresh, out of the oven lasagna, or a homemade soup, when you're stuck inside while the snow falls? Of course, I headed right for the pasta aisle and located my favorite brand. I scooped up a box of Barilla Lasagna Noodles and Barilla Marinara Sauce, knowing they would be the perfect staples for one of my favorite, passed down recipes.
Lasagna is one of those meals that always seems overwhelming, but it really is pretty quick and easy if you have the right recipe and ingredients! One of my best friends was nice enough to share her mother-in-law's recipe with me, and I will never make lasagna another way again! It was that good.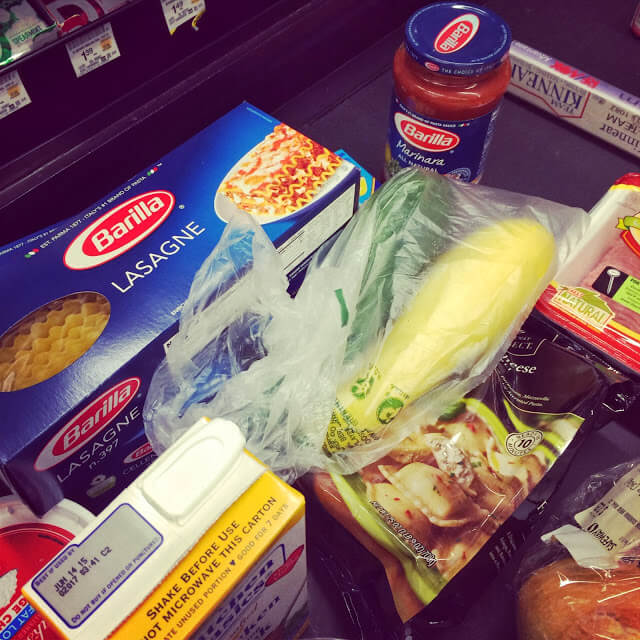 New Jersey 'Italian' Style Lasagna
You Will Need:
1 box Barilla Lasagna Noodles
2 jars Barilla Marinara (or Tomato & Basil) Sauce
1 jar full of water
EVOO
2-4 cloves minced garlic
Half of a white onion, chopped
1/4 - 1/2 cup white wine (optional, but I think it made the meat juicier!)
1lb. ground beef or turkey
1 15oz. container of Ricotta cheese
1 bag shredded Mozzarella cheese
1/2 bag shredded Parmesan cheese
Italian bread crumbs
A pinch or two of Italian Seasoning
Salt & Pepper to taste
Vegetables of your choice (we used sauteed zucchini and baby spinach.)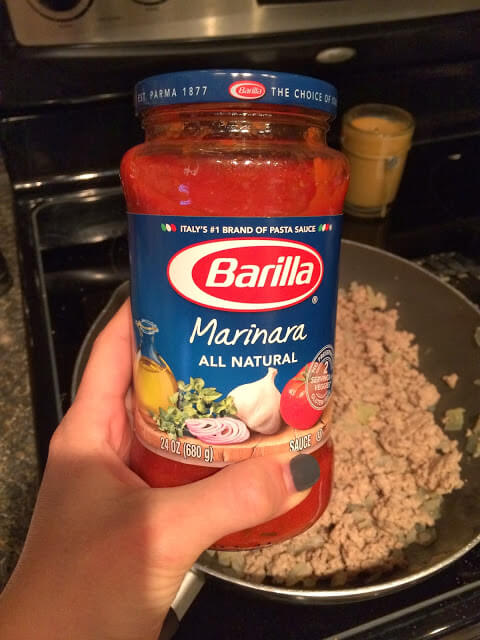 Begin by chopping your onion. Add some EVOO, the onion and 2-4 cloves of garlic into a large sauce pan. Saute this mixture until the onion are softened, then add your ground meat (I used lean ground turkey this time). Once meat is browned through, add 1/4 - 1/2 cup white wine (optional) and allow to cook down for a few minutes.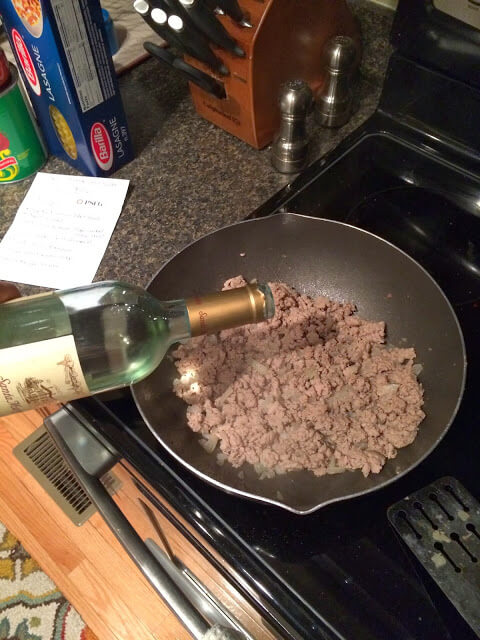 Then, add both jars of Barilla Marinara Sauce. Fill one of the jars about 2/3 full with water and add the water. Stir well. If the sauce seem to thick, add a little more water. If it is too thin, add a small can of tomato paste. Next, add Italian seasoning (parsley, oregano and basil) and salt & pepper to taste. Allow your sauce to simmer on low for 20-30 minutes.
Begin boiling your pot of water for your noodles while the sauce is simmering. Once the water reaches a boil, add your Barilla Lasagna Noodles. Only leave the noodles in for a few minutes. Once the water begins to boil again, give the noodles a minute or two, and then take them out quickly. You want your noodles to be firmer than al dente before going into the oven.
While my noodles were cooking, I washed and chopped some fresh zucchini and added it to a warm pan and sauteed it over medium heat until it began to soften. Once the zucchini was softened, I added a handful of baby spinach and sauteed that for a few minutes until it began to soften.
Then, turn off all of your heat and begin layering your lasagna.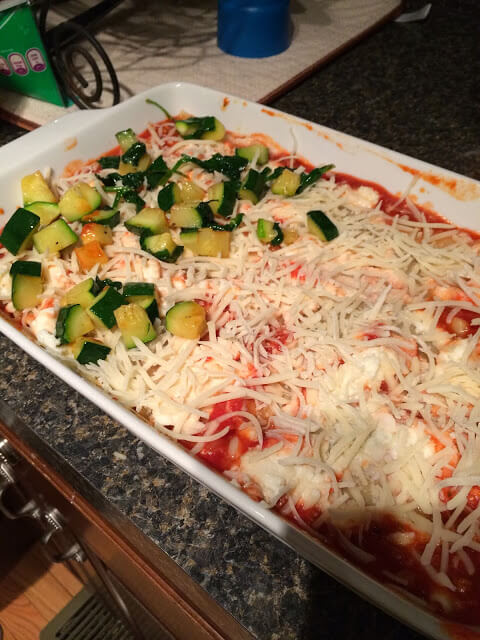 Start with a thin layer of sauce, and top with one layer of lasagna noodles. Top the noodles with a layer of ricotta, followed by a sprinkled layer of mozzarella and a dash of shredded parmesan. Next, I added a layer of the veggies to half of my tray and topped the entire layer with another round of sauce. Add another layer of noodles on top of the sauce, and repeat the cheese/veggie/sauce layer. Repeat until you run out of your noodles. Then, add bread crumbs and remaining parmesan cheese on top.
Once you have completed your layering, put your lasagna into an oven heated to 350 degrees and bake for about 30-35 minutes, or until the top appears lightly browned and it is warmed all the way through at the center.
I completed our meal by warming a piece of sourdough bread and serving alongside each slice of lasagna.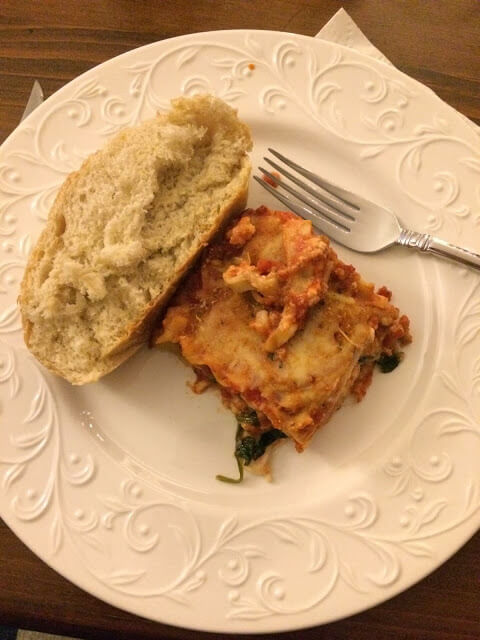 The noodles were cooked perfectly, and the combination of sauce, cheese and vegetables made the flavor robust and delicious!
My husband was beyond thrilled to see one of our favorite comfort foods come back to our kitchen after a long hiatus. This family recipe has definitely become one of our family's favorites, so I am delighted to be able to share it with all of you!
Be sure to shop your local Safeway and pick up any and all of the Barilla ingredients that you will need to make this at home. There is even an in-store promotion running right now! Get $1 off the purchase of ONE (1) box of Barilla® Lasagne and ONE (1) Barilla® Sauce!
And, if you're looking for more kitchen inspiration, check out the Barilla Facebook page!
Yayy, Jersey!! :o)