I have always loved a good snow storm. I get addicted to the news every time they're calling for a big snow, and I'm almost always one of the only people who are disappointed when the meteorologists are wrong, and we end up with just a dusting. I love the idea of getting snowed in. With nowhere to go, life has a way of slowing down and allowing us all a little time to relax and enjoy each others' company. Plus, I love any excuse for my husband to stay home from work with us!
This past weekend, we had plans to travel to NJ to visit my family and help celebrate my best friend's 30th birthday. We knew there were lingering talks of impending snow on Sunday night, but assumed that it wouldn't turn into much, and we would make it home midday Sunday in time to catch the second half of the Ravens game.
When Sunday morning came, we took our time getting ready, feeding the baby and packing the car. We got on the road right around 11AM in hopes that we would arrive home some time between two and three that afternoon. About forty five minutes into our trip, just as we were getting onto the NJ Turnpike, I received a text message from one of my besties, who happened to be traveling the same route, about two hours ahead of us. She mentioned 'snow' and 'road closures,' and we knew immediately that we needed to find an alternate route. There was no way that Gavin would hang out in his carseat for hours on end, especially if the car wasn't moving. Not to mention he was sharing the backseat with his 65 pound, furry sister.
We decided the best alternate route would be the PA Turnpike. The traffic looked lighter, and we figured we were going to run into snow regardless. And, we were right. It seemed as soon as we began driving west, the snow got worse by the minute. All the sudden we were on an unfamiliar highway in a mini blizzard.
My least favorite thing about snow is driving in it. And, being that this was our first time driving in winter weather with a baby, I will admit that a bit of panic began to set in. I knew we were not making it home for several hours. And that was if we really tried. I was ready to throw in the towel and head back to my parents house where it wasn't snowing, but B was determined to at least keep heading in the right direction. Luckily, my brother goes to Villanova, and we were headed right for him. I quickly contacted him to make sure he would be around for most of the day, and we decided that we would at least make a pit stop there so we could feed Gavin, gas up and get something to eat ourselves.
When we reached our exit, and pulled onto the more local roads that led us toward campus, I was truly worried we would get stuck. The snow was coming down fast and hard, and there was not a plow in sight. Thankfully, we made it into a covered parking garage near my brothers apartment. I was able to feed Gavin while B and my brother went to find some food. And the snow wasn't letting up. I was hearing reports that several inches had already fallen at home, and I just knew it wasn't a good idea for us to try and get back on the road.
So, to Google I went in search of a hotel that was close by and would allow our little family, including the dog. Much to my surprise, Residence Inn Marriott's allow pets, for a small additional fee, of course. But at this point, we just wanted to get somewhere safe and warm, and try to wait it out.
We checked into our room a short time later. The hotel was only five minutes down the road from where we met my brother, so it worked out nicely, and there were no real dicey situations on the short drive there. It took us a while to get settled. We ordered dinner, and B ran out for diapers and dog food, both items that we did not overpack for what we thought would be a quick, three hour ride home earlier that day.
Finally, we were all inside and settled. Gavin took a nap and we caught the end of the Ravens game on TV. I couldn't help but laugh as we sat there in a hotel room on a Sunday afternoon while the snow continued to fall outside. There was something adventurous and cozy about the whole thing. There wasn't much for us to do, so we just spent time together as a little family. We played with Gavin and watched Four Christmases. We even grabbed a beer from the front desk. And later, after G was asleep, we went back for the tiny little ice cream treats we had spotted earlier.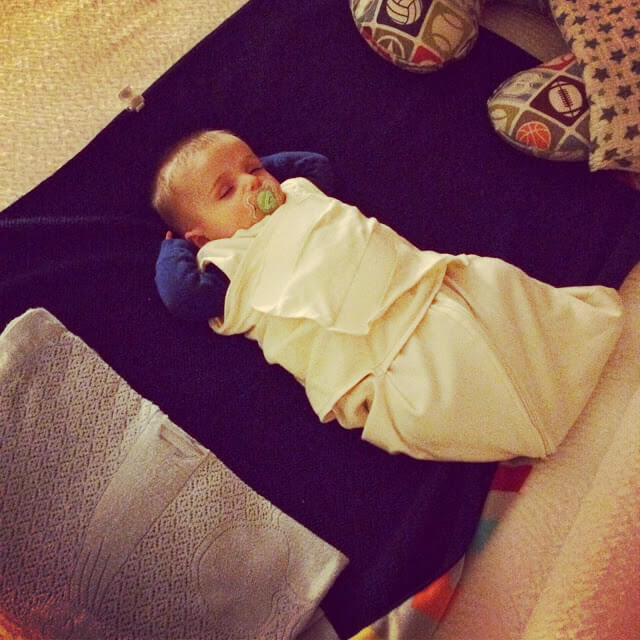 Last Sunday did not go as we had planned. Not even close. But, we will never forget Gavin's first snow storm. It is a fun little memory that we made as a family that I will cherish. But, you can bet that I will never try and do the drive to or from NJ without tons of diapers, extra dog food, and lots of snacks!