I love to cook. But, one of the things that I didn't realize about becoming a first time Mom, was that I wouldn't have nearly the time (or energy) to spend in my kitchen prepping delicious snacks and meals for myself and my husband. Gone are the days where I spent my Sundays meal planning, grocery shopping and prepping Sunday night dinner. Lately, I am doing great if I cook two nights per week.
But, I'm getting back into the groove a little more each week, and learning about the different items I can keep in my kitchen that make for quick and easy meals at any time of day. Our days go a little something like this right now ...
7-8AM - Gavin wakes and I change, dress and feed him.
8-9AM - Gavin hangs out in my room with me while I rush around getting ready, straightening up and trying to make myself look somewhat presentable. Ha.
9-10AM - We venture downstairs, I turn the coffee back on and play with Gavin until he gets tired enough for his morning nap, which is usually between 9:45-10:30AM, depending on when he woke up.
And all of the sudden, it's close to 11AM, and all I have managed to eat are a few sips of cold coffee. My stomach is growling and I know a quick fix (aka carbs, carbs, carbs) will only leave me feeling hungry again in an hour.
After stepping back and seeing the big picture of how our days unfold and what I was consuming (empty calories mainly), I decided I needed to pack my kitchen with healthy, lean proteins. Items that I could pull out of the fridge, throw together in a few minutes and eat to get myself through the next few hours. Thankfully, our local Safeway carries a wide variety of Hillshire Farm products, and their brands offer lots of options for healthy protein that will help to pack the punch that I need for breakfast and lunch most days.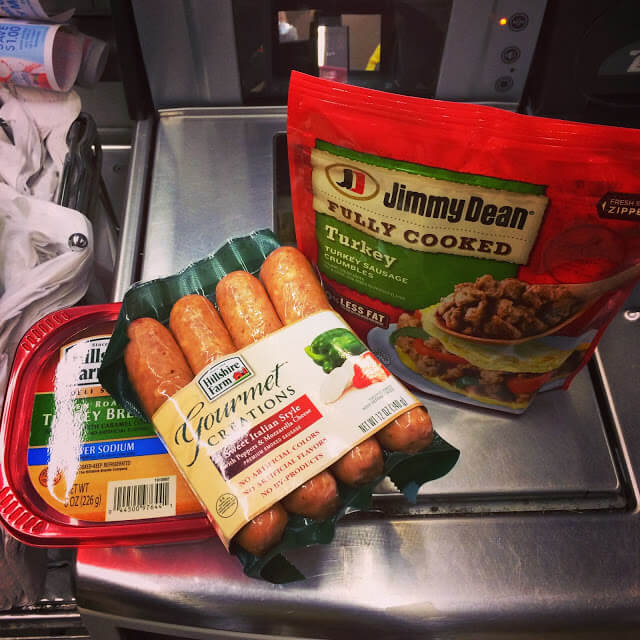 For breakfast, I often try and have oatmeal or eggs. Both are relatively healthy options that will help keep me satisfied longer. When I found Jimmy Dean 'Fully Cooked Turkey Sausage Crumbles,' I knew they would be the perfect addition to my eggs, and would even go great in an omelet! And with a guy in my house who barely makes it through a meal without some kind of meat in it, this was a great option for him to add to his breakfast before work. The bag even reseals making it super easy to toss back in the fridge and use another day!
On this particular morning, I simply whipped up a few scrambled eggs and warmed the sausage crumbles. Be sure to heat the sausage crumbles over medium heat for about 6 minutes before combining them with your eggs. If adding to an omelet, I would still heat them over low heat for a few minutes, and then pop them into the omelet and finish cooking.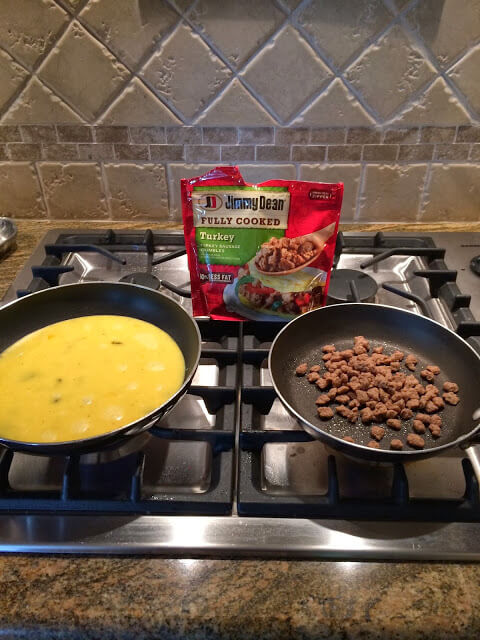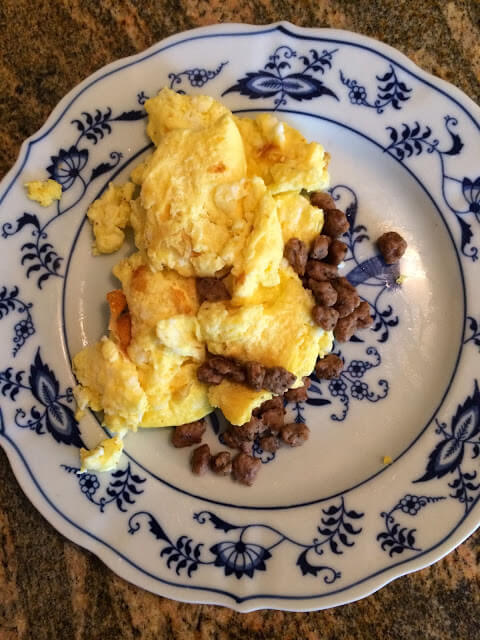 There are many days where I don't eat lunch until 3PM and don't realize how late it is until my stomach starts grumbling uncontrollably. It is then that I head into my kitchen looking for something that I can throw together and won't leave me feeling lethargic afterward (hello, mac-n-cheese!).
I thought I would try the Hillshire Farm lunch meat and opted for the 'Oven Roasted Lower Sodium Turkey Breast.' Now that I can eat lunch meat again, I have not missed an opportunity for a good turkey sandwich. The Hillshire turkey was great, and pairs perfectly with some veggies on the side. Now that's a complete lunch, am I right?!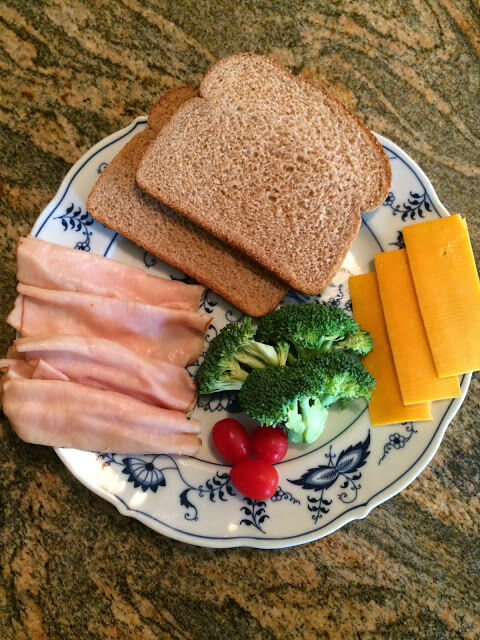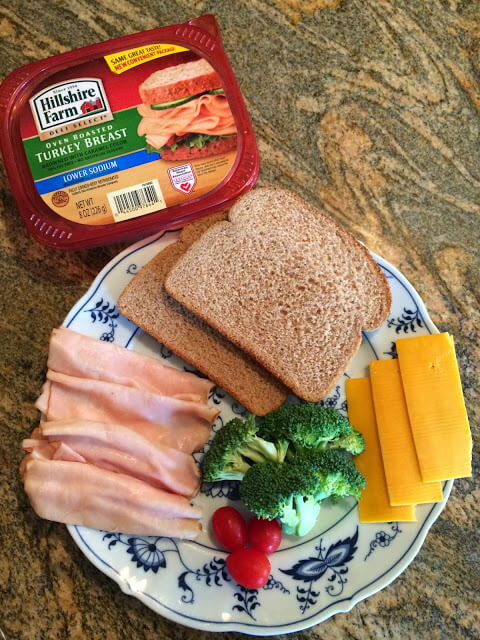 Having healthy and easy meal options in my house is a must now that I have a tiny little boss that runs my day. But, I am relieved when I remember that I bought these Hillshire items because I know I won't have to rack my brain trying to come up with something to eat when Gavin is crying and I am about to starve to death.
I am also excited to share that this week ONLY, you can take advantage of the Buy 3, Save 3 'Mix & Match' offer at Safeway. Simply sign up for Safeway 'Just for U' program, and take advantage today! There are plenty of brands to choose from, including Hillshire Farm, Jimmy Dean and Ballpark.
And, if you're not feeling terribly creative, and want a few ideas for how to whip up some fun, healthy and easy meals for your family using Hillshire Farm products, check out the recipe site for lots and lots of them!
The 'Buy 3, Save 3' offer is only valid through this Saturday, October 19th, so make sure and stop into your local Safeway while you're grocery shopping this week. Trust me, you won't regret it!