What else can I say besides 'this has been the longest and shortest two months of my life.' How is it already fall, and how is our little man already eleven weeks old, developing a charm, personality and the most adorable laugh on the planet? Although the days seem long sometimes, the weeks fly by in the blink of an eye, and it seems that Gavin grows a little more each day, and every time I snatch him from his crib, he has changed again, even if only in the slightest of ways.
I think I am hitting my stride in motherhood these last few weeks. I hate to 'pat myself on the back,' but I feel much more confident, and Gavin definitely knows his Mommy's face and voice. I would make a fool of myself all day long to get him to coo and laugh as much as possible. The little sounds he is making more and more have become my favorite thing. Ever.
It is amazing how motherhood changes you. Things that once seemed so important are now trivial, and every little thing about the baby seems crucial. There are moments when I still get a glimpse of my old self, even though I have been rocking dance pants, no makeup and messy hair for the last eleven weeks like it's my job. Oh wait, I guess it sort of is right now.
Gavin and I have started getting out more and more. I joined my local Stroller Strides and have been trying to get to class at least two mornings a week. They meet M/W/F and we have been pretty good about getting out there and enjoying the weather while we still can. I also started up my women's group at our church again, so most Tuesday mornings, we head there to enjoy fellowship and study with other Moms and kiddos.
Gavin can also rock a day in the stroller while I shop or run errands. I will be devastated when he is big enough that he won't nap and hang out while we bop all over town. He is also starting to have longer spans of 'awake time' throughout the day, and I just can't get enough of his silliness when he's in a good mood.
We took him to the beach to celebrate my 30th birthday last weekend with some friends, and he met some of his besties. Three of my best friends and their husbands and children joined us for the weekend in Fenwick and we had a blast together, despite the chaos of eight adults and four children under 3.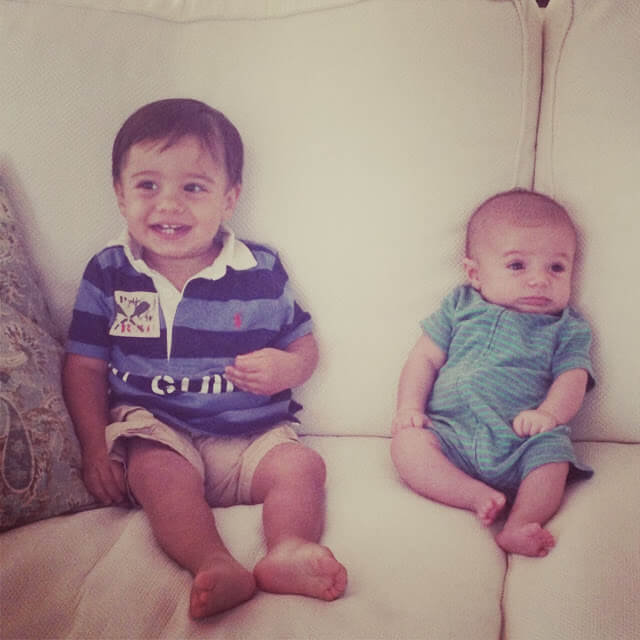 Two of the littles. My best friend Amber's son Marco and Gavin meet for the first time!
Right now, we are in NJ visiting my family for the week. B will come up on Friday to get us, and then we're headed back to MD. So, I'm missing all of my Mommy groups this week, but trying to keep up with the workouts while I'm away!
Weight/Height: Gavin had his 2-month checkup on 10/8 when he was 10 weeks old. He was 12lbs7oz and 23 1/2 inches long. So, he gained close to two pounds and grew another inch since his last visit! Each day he grows and changes, and when I see him in other peoples' arms, he looks so tall to me! But, he's right around the 45-50th percentile in both weight and height, so maybe I'm wrong.
Hair & Eyes: Gavin's hair is still a light brown color, although it seems to be getting lighter by the day. In the daylight, it almost looks blonde on the tips. His eyes are still a greenish/blue hazel color, almost just like his Mommy.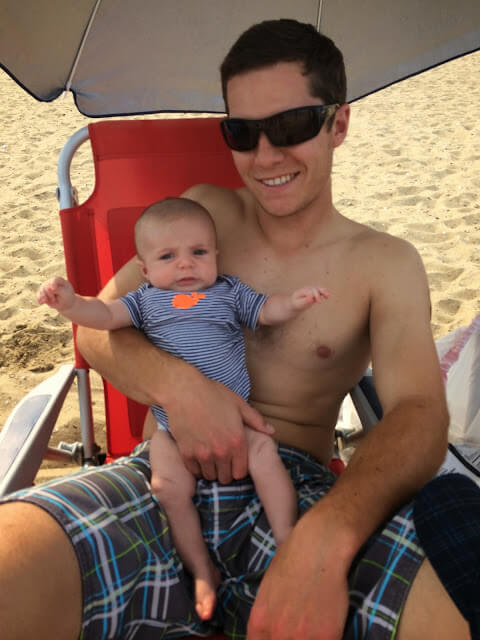 Diapers: He has about outgrown his Size 1's, although Mommy is trying to use up the few we have left before we transition completely to Size 2's.
Clothes: Gavin is in almost all 3-6 months clothing now. He still fits into some of his 0-3 stuff from the Gap, but everything else is 3 month, 3-6 and even some 6 month stuff from Carter's! He basically lives in Baby Gap and Children's Place PJs and I'm OK with that :o)
Eating: We are into a pretty good routine at this point. He wakes up anytime between 6:45-8AM and eats within a half hour of waking up. Then he plays, takes a quick nap (about 45 minutes or so) and eats again between 11-12 most days. His 'afternoon nap' usually starts between 12-1PM and then he eats again between 3-4PM. We typically start his bedtime routine around 5:45-6PM, depending on how tired he is. Daddy gives the best baths, and then I feed him again around 6:30ish. He is still up once overnight to eat, typically between 3:30-4:30AM.
Sleeping: As you can see above, he goes to bed between 7-8PM after his 'dinnertime' feeding, and wakes up between 3:30-4:30AM. We are usually awake for about 45 minutes, and then he goes back to sleep until around 7AM most days.
He takes his first nap between 9-10AM, usually lasting about 45 minutes to an hour. He goes down again between 12-1PM and will sleep anywhere from 1-2.5 hours depending on the day. If that nap is on the shorter side, he is usually tired again by 4:30-5, so I let him take a 'cat nap' some days to get him through to bedtime.
As far as 'sleep training' goes, I have done some research; mostly Moms on Call and 12 Hours Sleep by 12 Weeks, like I mentioned last month. My first goal was to get his daytime feedings into a pretty good schedule. Now that we have done that, I think we are getting closer to preparing for nighttime training. But for now, I am comfortable with our nighttime 'routine' and don't really mind being up with him. I told myself I would give it until he was at least 3 months before I really got into training and weaning him. I know I will lose at least a bit of sleep during the first week of that after all.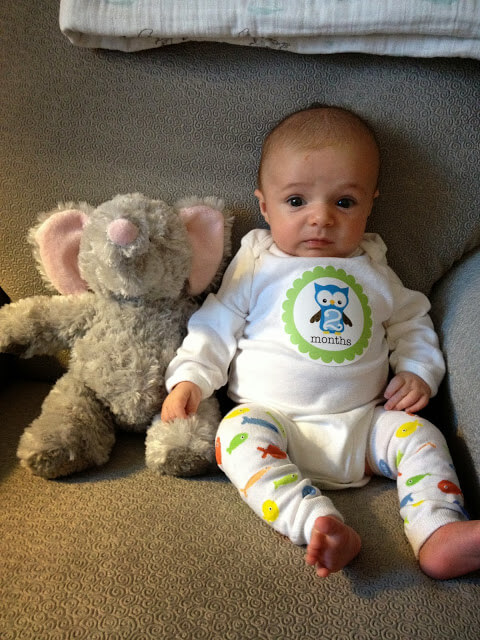 Milestones: Gavin is changing everyday, but the most noticeable changes have been the color and thickness of his hair. He is getting more hair by the day, and it is starting to lighten up quite a bit. He is also developing quite the little voice! He loves to laugh and coo and even shout in response to me when I'm 'chatting' with him. He is always looking around, studying everything around him.
He has a few favorite toys - a Baby Einstein music toy, Sophie the Giraffe and the stuffed octopus that came with his activity mat. He will stare at them intently, and also loves to follow them around with his eyes. He follows me with his eyes when I leave a room, and loves to interact with Daddy, and stare at his furry sister as well!
He still rolls from belly to back, and will lift himself up on his forearms for a few minutes during tummy time. His head control continues to amaze me. I think he is almost ready to sit in a Bumbo type seat by himself. His grasp is strong, but the only things he will hold onto right now are fingers, hands and his blankets. I am waiting for him to grab Sophie or one of the other toys any day now.
Gavin is an absolute joy and the light of our lives, and I cannot wait to spend the next two months leading up to Christmas with him. I have already started brainstorming for Christmas shopping ideas, outfits, pictures and more!