I hope you are all enjoying each and every one of the guest bloggers that offered to pitch in while I'm taking 'maternity leave.' I have loved having each one of them, and feel like this should be at least an annual thing! I have soaked up all of the advice, the pictures and the stories about each of these women and their families. And today, I am happy to have Megan here, as one of our final guests to share some of the advice that helped her as she transitioned into motherhood not long ago.
You probably recognize Megan from her blog, Table for 3 and her very popular linkup, Trendy Tot Tuesdays!

Hi, I am Megan and I blog at Table for 3
!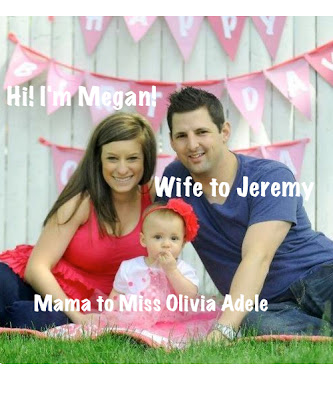 I am SO excited to be guest posting for Pam
! I am the mama to Olivia Adele who I am head over heels OBSESSED with! Olivia turned two years old in May and is the main topic of my blog!
Pam asked that I share some advice for new mama's!

Sleep when baby sleeps!! I know it seems silly, but even if it is for 30 minutes, when you are sleep deprived it makes ALL of the difference in the world!! No one is going to care if you have laundry to do, dishes do etc...you NEED your rest!
There is NO such thing as taking TOO many pictures!! Babies change SO much. I swear, there have been times I have put Olivia down for a nap and then when she wakes up it is like I have a totally different baby! (well, not REALLY, but you know what I mean!)
Enjoy the little moments! Middle of the night feedings, when baby ONLY wants you, these little moments are time to bond and it DOESN'T last forever!
If you need help, ask!! We may TRY to be super mom but we all need time to ourselves and help! My parents and in-laws don't live close, but when they come to visit they are MORE then happy to take over baby duty for a little bit so I can run errands alone of get away for an hour.
Take care of yourself. This was the HARDEST for me!! Once Olivia came home, all I cared about was her! Once we got into a routine I started getting back into my old routine which made me feel better about myself. I made time to do my hair, do my make up and EVEN my nails!!
Have fun! Now that I work in town and with young professionals my age it is fun to hang out outside of work!
I used to feel guilty about having nights out so I would wait until Olivia was in bed. It is all about finding a balance that works for you!
Make time for your spouse! Remember, before baby it was just you two. If you can, try to plan a date, even if it is to go get morning coffee just you two or go catch a movie! It is important to have time alone just you and your significant other!
I hope all of you new mama's out there are enjoying your time with your little ones! It goes by SO fast!!


I hope you will all stop by and say hi!!
Thanks for having me Pam! :)