It's that time of the week again! And, although we won't be enjoying this yummy dinner tonight (sadness.), I thought I'd pass it along for all of you that might need a little kitchen inspiration today!
I originally got this idea from my friend, M. She paired it with the
Pesto Stuffed Chicken
recipe I've shared before. It goes perfectly with that, and also goes well as a main course, or a side for any type of chicken (or meat). It is SUPER simple to throw together, and made with fresh ingredients, so it's healthy, too!
Linguine with Fresh Tomato & Spinach Recipe
Ingredients
1 box linguine (any type, can sub whole wheat pasta)
1 small carton grape tomatoes
1 bag fresh spinach
Pressed garlic
EVOO
Begin by filling a large pot with water; bring to a boil.
While waiting for water to boil, lightly brown pressed garlic in olive oil using a large frying pan. Once garlic is golden brown, add bag of cleaned, fresh spinach and allow to heat (spinach will become smaller and easy to stir). Chop grape tomatoes in half and combine with spinach.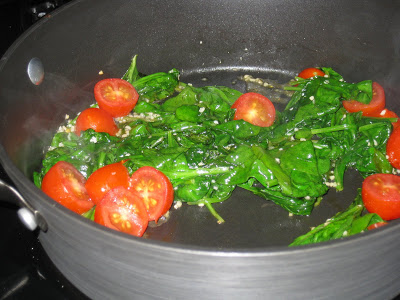 Once pot of water is boiling, cook pasta to desired tenderness. Drain pasta and then add to spinach/tomato mix and stir well.
Serve hot by itself or with your favorite meal! ENJOY!!