I hope that everyone had a wonderful Easter weekend, we sure did. We went up to Hometown, NJ for Easter to spend it with my family. We had a really nice time, despite the 8+ hours that we spent in the car over the course of 2 days :o)
Easter is such a special holiday to me; it comes at the time of year where the cold and bitterness of winter are just tapering off, and the warm weather and signs of spring are just starting to appear. Easter has such a sense of refreshment, and I think I have grown to appreciate this more and more as I've gotten older. Our Easter Sunday service was really great this year, lots of praise and worship, great music and a really well-performed skit by our lead pastor portraying a Bible story in modern day. It is so important to take the time to reflect on the greatest gift that we have ever been given; Jesus dying on the cross for us. For me. For YOU. I spent some time in reflection over that this weekend, and B and I did as well; it just overwhelms me.
Perhaps the best part of the service was our rendition of Chris Tomlin's "I Will Rise" - it really captivated me. B and I really want to see him in concert, so if you know if any shows in the DC/Baltimore area, please let me know :o) Here is the song, my new favorite:
We also got to meet my sister's new puppy, Princess Bella over the weekend; she is absolutely adorable; take a look ...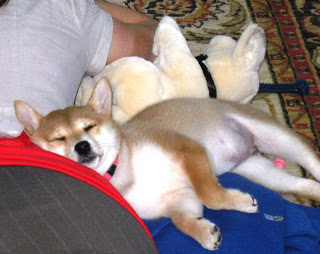 I cannot believe it is already Monday! Another busy week awaits.
The Hills tonight! Yay!