Whew, have I been out of the loop lately!! I haven't posted in 10 days?! That's mind boggling. To be honest, I still sign in each day and get my daily dose of the wonderful blogs that have become a part of my daily routine, and I thank you all for that.
So, where does that leave us?
Well, the last 10 days have been decorated with house-decorating, rainy days, workin' girl hours (and outfits!), happy hour, BBQs, reunions, American Idol (duh), playing hookie, doc appointments, more rainy days, and more happy hours (obviously). Sheesh, I sound like a broken record at times, no?
Well, rather than going into a multi-paragraph description of all of these wonderful things I've been up to lately, why not just let a few pics do the talking for me?!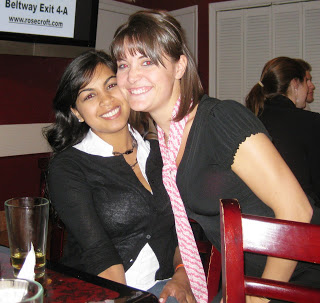 Aliya (you know, from
The View From My Shoes
?!) and I at a fundraising happy hour for our friends LLS Campaign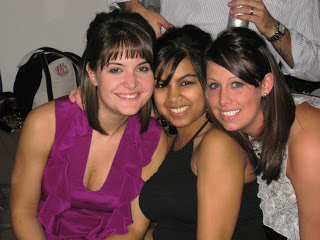 BBQ #1 at my place with some loves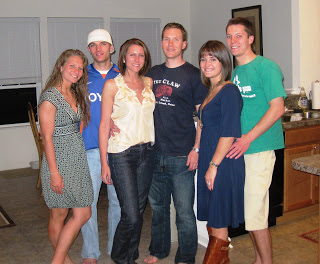 "M" family reunions are my favorite - B's brothers, sister-in-law (from
I Love You More Than Carrots
!), Krista and I in B's new house! (more to come on that later ...)
------------------------------------------------------------------------------------------------
AMERICAN IDOL SPOILERS BELOW!!
(if you haven't seen it yet, I apologize in advance)
Can I just say how excited I was after the outcome of last night's Idol elimination?! I was SO ready for Lil' Rounds to be outta there, she has been sub-par in my opinion (and Simon's, which, let's be honest, is really the only one that matters here) for the last few weeks, and I just don't see her being very marketable at this stage in the game. I am over it.
Anoop, I did like, a lot. But, who am I kidding, he wasn't going to win this thing, so it was his time as well.
I am over-the-moon excited for what the Top 5 will bring us next week, and even more so that the Top 5 contains 4 guys!
And, just because I can NEVER get enough Adam Lambert - "
If I Can't Have You
" .. which I think I have already watched 5+ times :o)