"This post is part of a social shopper marketing insight campaign with
Pollinate Media Group
™ and
Jimmy Dean
, but all my opinions are my own. #pmedia
#BreakfastDelight
http://cmp.ly/3/8vNxcO
."
Now that Gavin is six months old, we have established a pretty solid daily routine. Or, maybe it's more like, we start and end our days pretty much the same way every day, and what happens in the middle goes one of a few ways.
Our day typically starts around 6:15AM when B's alarm goes off and wakes us and the dog. If Gavin starts stirring this early, I will sometimes run into his room and pop his paci back in his mouth in hopes that him and I can sleep for another hour. By 7:45 on most days, Gavin is wide awake and chatting up a storm down the hall in his crib, and it's time for me to head down and scoop him up. If I'm really on the ball on this particular day, I have brushed my teeth and gotten dressed before I get him, but most days, I just snooze until he's ready.
Between 7:45-8:45AM I nurse him, change him and get his dressed for the day. Once I am dressed, we head downstairs for morning playtime. I often spend some of this time sipping coffee, making breakfast and/or packing the diaper bag for what our day has in store for us. Two or three mornings per week, we go to a workout class called Stroller Strides. Basically, I bring Gavin to the class with me in his stroller and he and all the other kids hang out while all of the Mommy's work out. When the workout is through, we have social/play time for the kids. It is a great way to spend a part of our mornings and we have grown really fond of the socialization and new friends we have made already!
So, let's say this particular day is a Wednesday. We would need to be out the door and headed to class by 9:45. Gavin gets his morning cereal around 9:15 or so, and in the small window between when he finishes and when we need to leave, I usually try and squeeze in breakfast for myself. I look for simple, easy to prepare options that are nutritious and pack a protein punch that will keep me sustained through the first few hours of my day.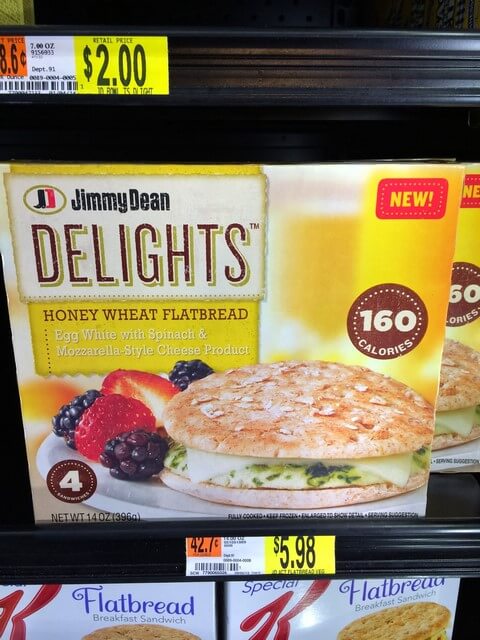 During one of my recent trips to WalMart, I found Jimmy Dean Breakfast Delight sandwiches. Honeywheat flatbread with egg white and spinach sounded right up my alley, so I grabbed a box. Each box contains four sandwiches, so I knew one box could last me through a week of busy days. Each sandwich is a great source of protein, and a low calorie option coming in at just 160 calories! In fact, Jimmy Dean makes several Breakfast Delight varieties and they are all under 300 calories!
On the first morning I tried my Breakfast Delights, I was pleased to find that I could simply pop it into the microwave for a little over a minute and it was ready to go! Talk about a Mommy time saver! Now, I can make myself breakfast while I'm feeding Gavin and still have time to eat it and be out the door on time!
The Honeywheat Flatbread that I chose was simple and flavorful, and gave me enough protein and calories to get through my morning workout. That's a win in my book! But, Jimmy Dean has lots more to offer for quick and easy breakfast options. Simple and nutritious options perfect for busy Mom's who are constantly on-the-go. And let's face it, if you're a Mom, you pretty much always have your hands full and very little time to prepare a meal for yourself! Be sure to check Jimmy Dean out on Facebook, Twitter and Instagram as well!
Do yourself a favor and try one of the many varieties of Breakfast Delight sandwiches next time you're at WalMart. Your schedule and tummy will thank me!