How is my baby already over a MONTH old?! And more importantly, how am I already that Mom that posts her only child's one month update this late? Gavin is actually seven weeks old today, and when people tell you the time will fly by, they are right.
The last seven weeks have gone by in what feels like the blink of an eye. Was it really over seven weeks ago that I was obsessing over my impending induction? That feels like a distant memory, because once Gavin was here, our lives were completely changed.
I would be lying if I said the first two weeks weren't challenging. Once we were home from the hospital, the learning curve around here was steep. Gavin and I were still getting to know each other, he was nursing around the clock, I was recovering from my delivery and I learned quickly that I don't function all that well on very little sleep. There were tears, rolled eyes and long days, but Gavin has brought us so much joy. He is already growing into his little personality and he knows what he wants when he wants it (I wonder where he gets that?!).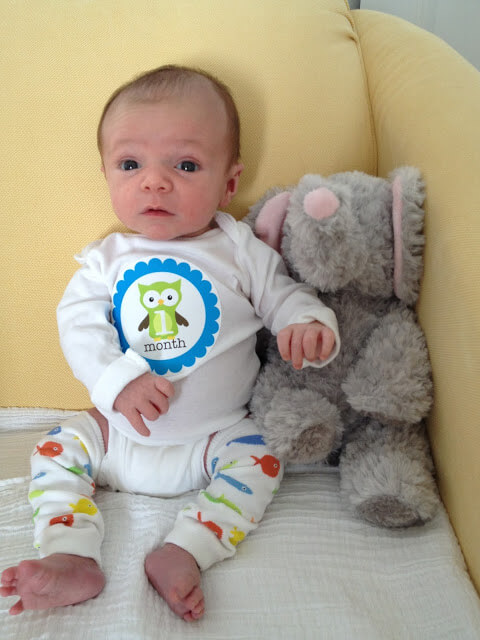 Weight/Height: At his 1-month visit (he was just shy of 6 weeks old), Gavin weighed 10lbs. 13oz. and was 22 1/4 inches long. That means he gained 3lbs. 8 ounces since his 1-week visit and grew 2 1/4 inches since birth! He is definitely growing quickly! His cheeks are filling out and he's getting a double chin and thigh rolls. Love.
Hair & Eyes: Gavin's hair is still a light brown color. When the sun hits it, it almost has a strawberry tint to it in certain spots. He started losing some hair on the top of his head at about 4 weeks (see below), but it is now coming back in and getting longer on top and towards the back. His eyes are still a cross between blue and hazel. B has blue eyes and mine are hazel, so I am anxious to see which one of us he ends up taking after!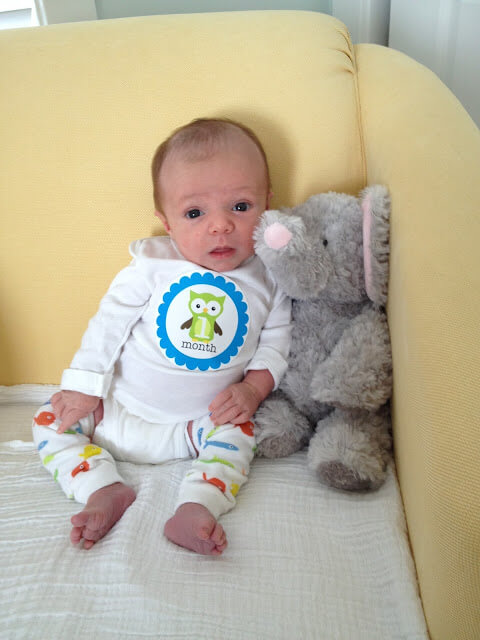 Diapers: He was wearing newborn diapers for the first 2.5-3 weeks, and then transitioned to size 1's after a few blowouts. We were given lot of Pampers Swaddlers as gifts, and I have been happy with them, so we are using exclusively Swaddlers as well as Pampers Sensitive wipes.
Clothes: Again, Gavin was in newborn outfits and pajamas for the first three weeks. I actually had to go out and buy him more PJs because we were seriously lacking in that department. Around three weeks old, he switched over to 0-3 pajamas, and is now in all 0-3 clothes and even some 3 month stuff. Children's Place 0-3 PJs are starting to get a little snug, he is in 3 month Carter's, and 0-3 Baby Gap is still a little big on him, depending on the outfit.
Eating: I was feeding him on demand for the first five weeks or so. He was eating about every 2.5 hours, but when he napped, he would go closer to 4 hours between. I feed him once during the night, and we typically start our day with the first feeding between 7-7:30AM. Once he turned six weeks, and I knew he was just about 11 pounds, we have started trying to establish a daytime routine. I have been researching 12 Hours Sleep by Twelve Weeks and Moms On Call to determine what works best for us. We are still learning! As of this week, he is eating every 3.5-4 hours during the day, and once overnight.
Sleeping: I hate to even talk about his sleeping patterns, because I know once I say something positive about him, it will come back to bite me. But, my instincts tell me that Gavin is a good sleeper. Once he is really sleeping, he is down for the count and would nap for 3.5-4 hours if we let him. As of this week, he is taking a 1-2 hour nap around 8AM (an hour after his first feeding started) and then another 1-2 hour nap around noon. He usually gets fussy and catnaps around 4:30-5 and then we bathe him and feed him between 6-7PM. He is also becoming an early to bed type of guy, and has gone to bed between 7-8PM lately.
Milestones: We have both reached milestones over the last several weeks. Gavin is now napping in his crib every day (hooray!) and we have been putting him to bed at night in his crib as well. This Momma is still bringing him in our room into the mini Pack-N-Play to sleep once we go to bed, but he loves his crib and I know it is probably time for me to let him stay in there all night and see how that goes. I know it will be a bit of an adjustment for me, since I won't be able to peek in at him as easily, but I will adjust and I think B and I are ready to have our room back to ourselves. I am hoping to at least try it out by the time he hits eight weeks.
Gavin started rolling over from belly to back during tummy time at just about three weeks. I was shocked to see him do it, but he loves it and will barely stay on his tummy during tummy time anymore. He is also starting to smile, coo and even laugh a little so much more, and seeing and hearing him so happy is my absolute favorite thing right now.
He also went on his first trip to the beach house in Fenwick Island and did so well that we ended up staying two extra days! He loves the car and almost always falls asleep once we get going. He has also been with Mommy to her two favorite place: the mall and Target. Our first Target trip went great, much to Daddy's dismay, so we plan to go back often!