Hi Bloggies!
Happy New Year, everyone!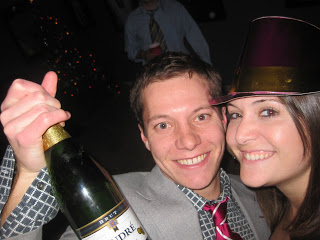 I am still getting over how quickly the holidays have come and gone this year, and can't believe it's 2010! We're getting married this year!! Not only this year, but our wedding is a little over 10 months away!
Since I last stopped by (and I still promise I'm trying to make more time for this blog!), we have done lots of wedding planning, I've taken a new job, my Grandma passed away and we have lots of traveling in our near future. Yes, my beloved Gram passed away on January 10th unexpectedly while vacationing in Florida with my parents; I am truly sad that she will not be able to be physically present at our wedding in November, but am looking forward to celebrating what a wonderful life she had with my family in NJ this weekend!
In other news - I used the holidays to catch up on ALL of my TV shows (there are far too many!), and was completely caught up for about 6 blissful days, and now The Bachelor & Idol have started again, on top of the return of all of my other regulars?! And, in case you're wondering, I do agree that I may or may not watch too much TV :o) So, sue me.
And for all of you football fans out there - the Jets have officially made it to the second round of the playoffs with a rookie QB, my boy Sanchez! This week will definitely prove to be a tough game, but I will definitely be there rooting them on every minute!
So for now, I will be settling in at my new job, making more wedding decisions (including dress shopping next weekend!!) and spending time with my wonderful fiance' - I hope you're all doing well!!
And, in wedding news! We have booked our wedding venue, and it is beautifulllll - check it out
here
! And we've also booked our wonderful wedding photographer, Dana Duncan! Check her out
here
.
Back Soon! <3